A couple of weeks ago Nikki mentioned a product that she likes called Coffee Break by Medicinal Foods. This product contains Chaga and Reishi mushrooms which I have been wanting to incorporate into my diet, so I ordered it. This product is a caffeine-free natural energy drink that tastes great!
It contains roasted Chicory, Barley and Dandelion boosted with superfoods: Chaga mushroom, Reishi mushroom and Maca Root.
Chaga: Supports healthy hair, skin eyes, blood sugar, digestion and immune system
Reishi: Is a powerful adaptogen that helps resist stress and supports healthy liver funtion.
Maca Root: Vitamin rich, amino rich energy enhancer, supports health and sexual function.
From the get-go this product contains a nutritious power punch! I decided to add it to a green smoothie to make it even more nutritious. In one drink you get your breakfast smoothie and energy boost- after that who needs coffee? I have now been coffee free for 1 week! With no withdrawal headaches.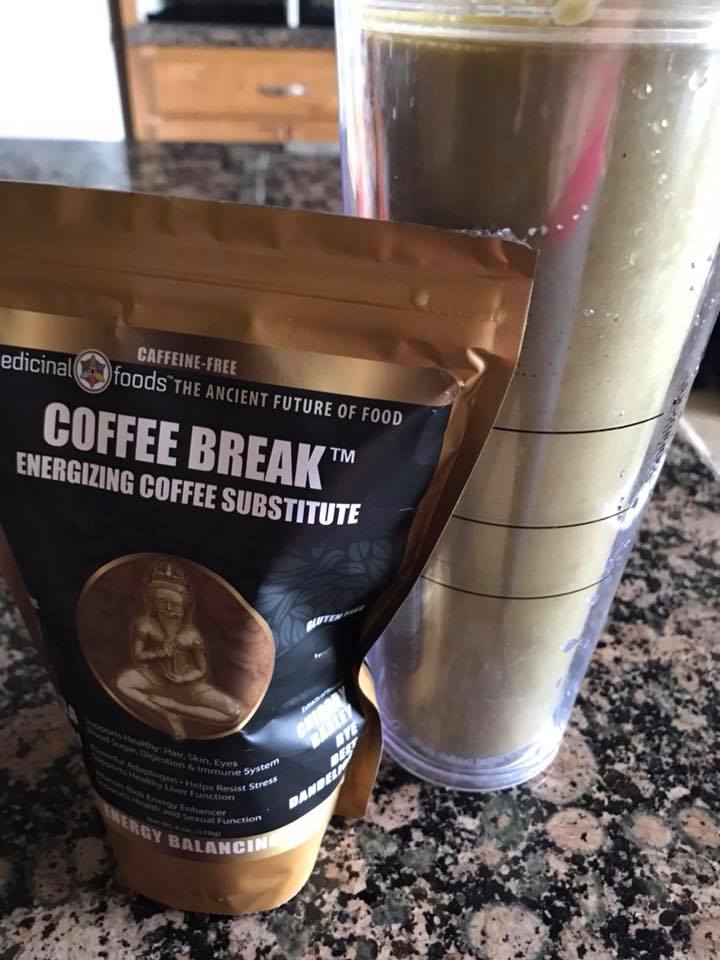 Order Coffee Break so that you can make this too!
Ingredients:
1 whole organic romaine heart
1.5 tbsp of Coffee Break
1/2 tsp pure vanilla
1 cup of almond milk (I use plain homemade almond milk but you could use a low sugar premade almond milk)
2 frozen bananas broken in pieces
Put all the ingredients in the blender except the bananas. Blend down the romaine lettuce. Add the bananas and blend until smooth.
This serves 1.
Recipe by Raw Chef Debra Garner
To learn more about the raw food/plant based diet and Debra's services please visit her website. She offers a 6 week raw vegan/plant based coaching program as well as ready made raw vegan creations.