Did you know that 1 tbsp oil has the same amount of calories as 2 lbs of squash? Oil is the most calorie dense food there is. I recommend limiting oil as much as you can. Instead enjoy your healthy fats in the form of avocado, nuts and seeds (which also contain fiber). This vinaigrette is delicious and oil-free. The recipe makes enough for 1 salad. So double it or trible it if needed.
The base is chia seeds soaked with water until it is a gel. Then you wisk in the rest of the ingredients. Super easy to make and delicious!
I use KunaChia Organic Chia and Live Cultures Milled Chia seeds. That way I am getting the live cultures as well.
1 tsp of ground chia seeds (this is my favorite brand) 3 tbsp warm water.
Mix the chia seeds and warm water together and let sit for 5-10 minutes.
Add:
1 tsp dijon mustard
1 tsp tsp minced garlic
2 tbsp of Fig Balsamic vinaigrette
Whisk all ingredients together
season with salt and pepper to taste
If too sweet you can add more dijon mustard- start with a quarter tsp.
You can also use pear balsamic, aged balsamic, or white balsamic. If you
are using aged or white balsamic I would start with 1/2 tsp dijon and adjust
as needed.
Serves 1
This salad is one of my favorites. I use spring lettuce from Costco and chop it so it is easier to eat. Add to it sliced onions (preferably red onions but I only had white on hand), sliced grape tomatoes, chopped avocado, and sunflower seeds.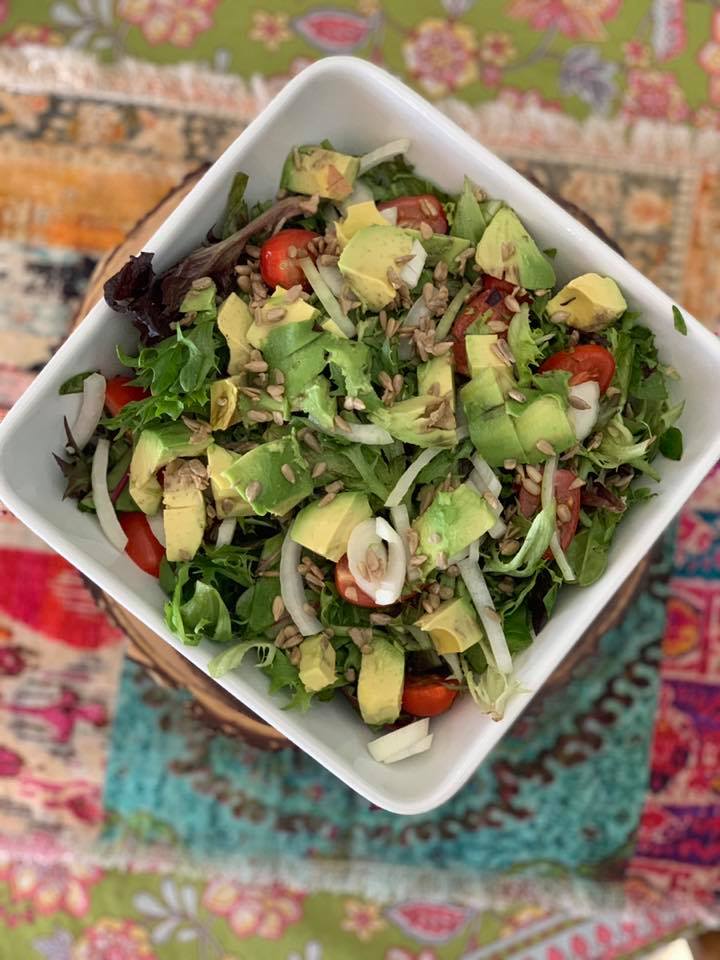 Recipe by Raw Chef Debra Garner
To learn more about the raw food/plant based diet and Debra's services please visit her website. She offers a 6 week raw vegan/plant based coaching program.