Summer is around the corner and that calls for a Health(ier) Margarita recipe!
In our opinion, the best margaritas are simple, refreshing, and filled with real ingredients! This recipe uses fresh-squeezed orange juice instead of triple sec, which adds a burst of flavor without the additional calories. It's light, citrusy, and perfect for a summer afternoon!
Ingredients:
1 ½ oz silver tequila
4 Tbsp freshly squeezed orange juice
1 ½ oz freshly squeezed lime juice
1 tsp light agave nectar
Salt & lime wedge, for garnishing
Ice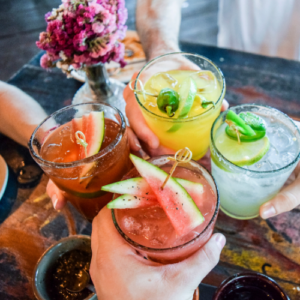 Directions:
Spread a thin layer of salt or tajin (look for low sodium!) on a small plate. Run the lime wedge around the rim of a glass to moisten it, then press the glass into the salt, to coat the edge. Fill with ice and set aside.
Marg hack: salt/tajin only 1/2 of the rim to cut down on sodium intake
Fill a cocktail shaker with ice and then add the tequila, orange juice, lime juice, and agave nectar. Close the lid and shake vigorously until thoroughly combined. Pour over the ice in your glass, add the lime wedge, and enjoy responsibly!