No matter what you call it.. Buddha bowl, hippy bowl, or glory bowl it is all delicious and nutritious. It can be as simple or as gourmet as you wish it to be. I like the fact that with a little preprep I can assemble a Buddha bowl in a very short time frame. While my potatoes are cooking I can assemble everything else, as soon as the potatoes are done I am ready to eat.
If you type in "Buddha bowl" into the search area of Instagram or Pinterest you will find some amazing pictures. They will inspire you to get your Buddha bowl groove on!
I tend to keep it simple- most nights it is potatoes and raw veggies with a hummus or guacamole dip. A few times a week I cook up some tofu and add that to my bowl. For the veggies it is usually baby carrots, cucumbers, tomatoes. You could add greens, cooked or raw, a stir fry over quinoa would also be delicious. I prefer my greens in a green smoothie so my Buddha bowl does not contain greens unless it is a stir fry.
I eat potatoes pretty much every night. I line a cookie sheet with parchment paper. I slice my potatoes (russet or red) thinly (but not too thin). I spread them out on the tray in a single layer. I spray the top with olive oil (I use a Misto spray bottle that you can find online or Bed, Bath and Beyond). I season with chili powder, garlic powder and a bit of pink sea salt. I put in the oven and turn on to 400 degrees. They are usually done about 10 minutes after the oven is preheated. They should be golden brown but not burned. They are crispy and delicious. You can dip in hummus, guacamole or ketchup.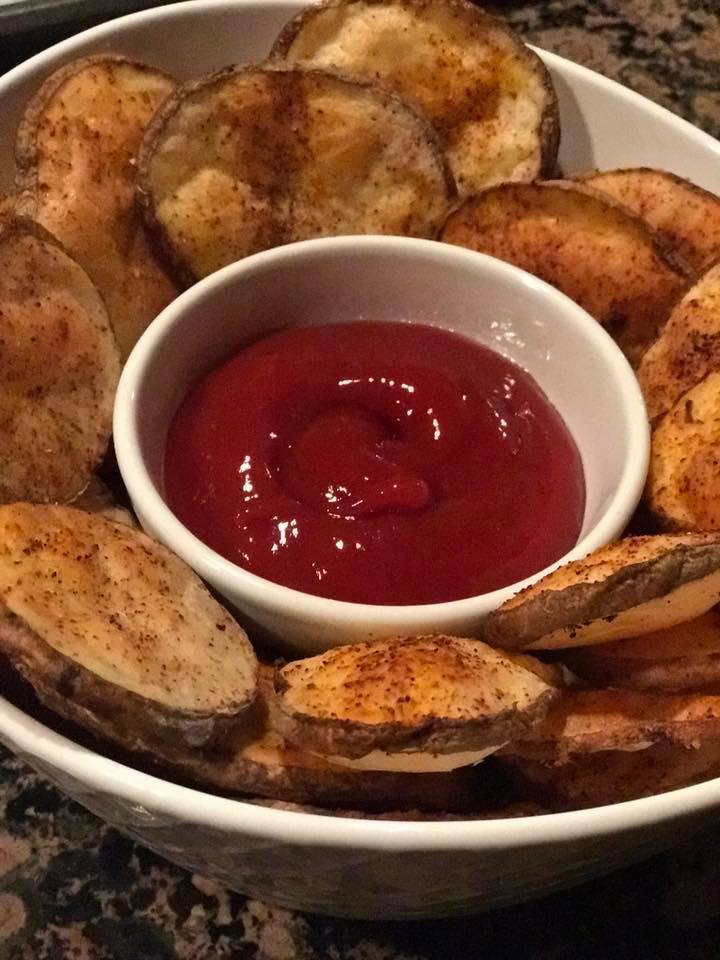 For my tofu- I press out as much water as I can. Slice it up. I season each side with a sprinkle of nutritional yeast, pink sea salt and pepper. Heat up a non stick pan to medium high. Put a tsp of olive oil and use a brush to spread it around the pan. Put tofu in pan and cook until crispy on both sides. I like to dip the tofu in BBQ sauce. My favorite is Stubbs as it is lower in sugar. You can also use these slices in a sandwich.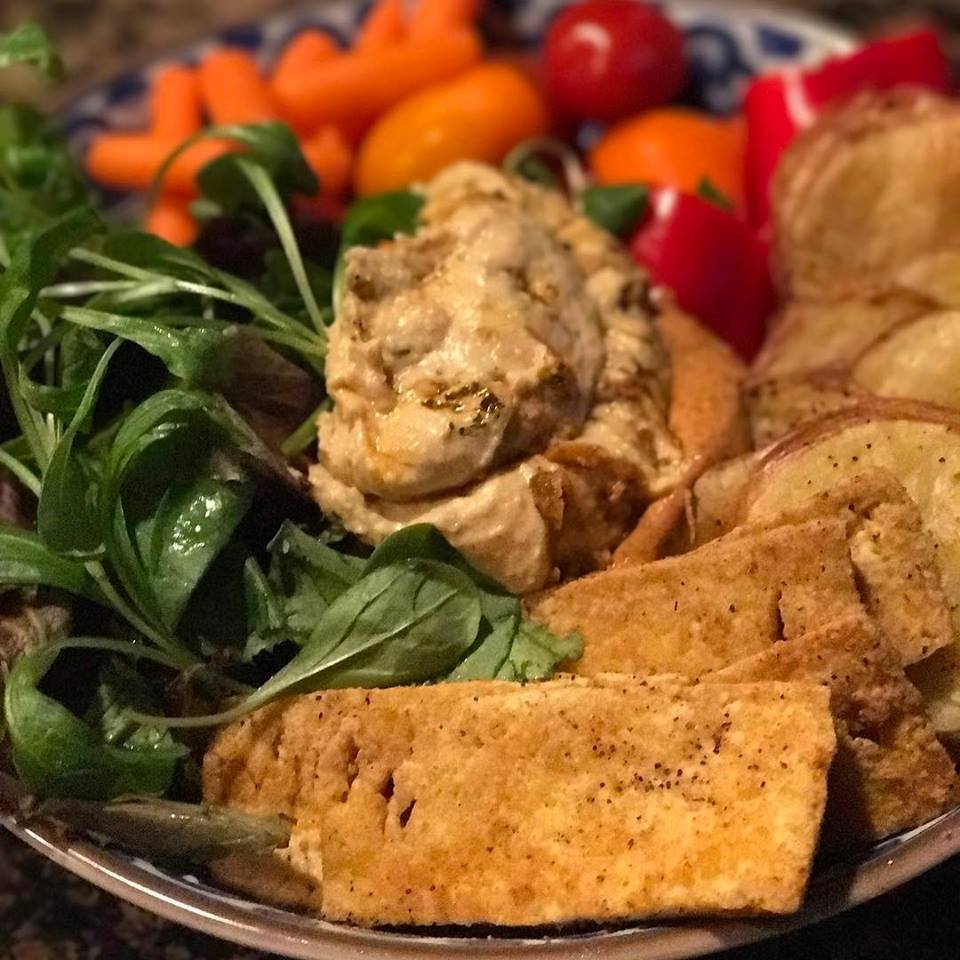 Now you can assemble your Buddha Bowl. It is called a Buddha bowl because the overflowing bowl represents Buddha's belly. I think it represents more simple and nutritious temple food of Buddhists (though I use way more spice than they do).
I like to put a small dip bowl in the center of my larger bowl for my dip- hummus, guacamole, ketchup you name it. You could also dress the bowl with your favorite nutritious salad dressing.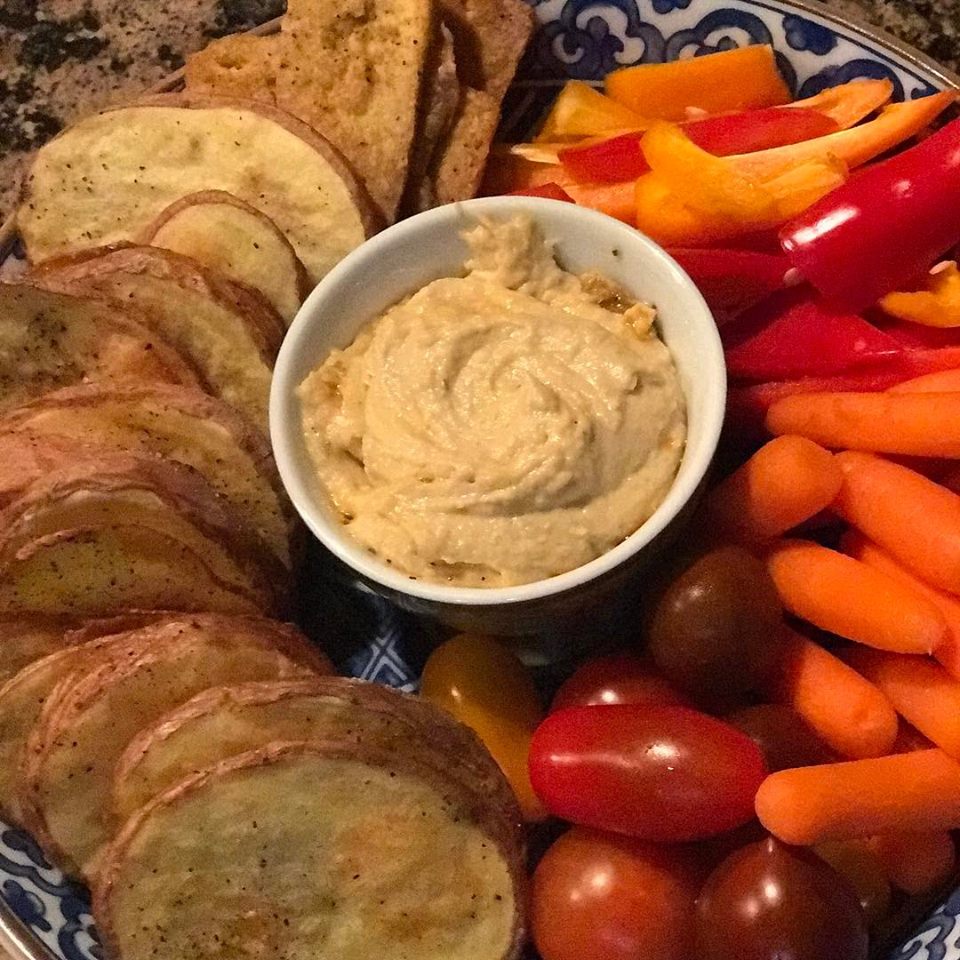 Here is a list of items you could put into your Buddha bowl:
1. Grains- brown rice, wild rice, quinoa, couscous, noodles, barley
2. Legumes- tempeh, tofu, chickpease, beans, lentils, little burgers or balls made from legumes
3. Non starchy veggie- greens, cabbage, bok choy, broccoli, green beans, salad greens
4. Other veggies that you like- carrots, tomatoes, cucumbers, eggplant, avocado. Some raw, some cooked if you like.
5. Sauce- dips like hummus, guacamole, salsa, marinara, green goddess salad dressing
6. Toppers- nuts, seeds, sprouts, fermented foods, dulse flakes, spice mixes, herbs

Then you get to put it all together. Start by putting your grain on one side of the bowl, put your legume next to that, your greens in the remaining space and pile your other veggies on top. Drizzle your sauce over the top or add a mound of dip, then sprinkle with your topping.
Buddha bowls are delicious and an amazing way to get a ton of nutritious food into your daily diet.
Recipe by Raw Chef Debra Garner
To learn more about the raw food/plant based diet and Debra's services please visit her website. She offers a 6 week raw vegan/plant based coaching program as well as ready made raw vegan creations.