Long gone are the days when I used to oil up and lounge in the sun with tin foil. My sister and I used to sit on our porch in the North
Carolina summers working on that 'perfect tan'. I still remember my mom coming out and comparing us with turkeys roasting in the oven.
I still work for that 'perfect tan' but do it with all natural, organic sunless tanner (see our blog with the top 4 best options!). When I'm out in the sun, my primary focus is to make sure I've got ample sunscreen and coverings to make sure I'm enjoying that Vitamin D without harmful exposure.
Over the years, I've used many different sunscreens and figured I can help take the guess work out for you! Check out some of the best sunscreens on the market in terms of coverage and ingredients (after all, your skin is your biggest organ!) and let me know which one you prefer!
An important note on sunscreen safety: The FDA is currently proposing big changes to sunscreen regulations, and only physical sunscreens with the active ingredients zinc oxide or titanium dioxide are currently recognized as safe. Until they reach a more robust conclusion in late 2020, the FDA advises, "Americans should continue to use sunscreen with other sun protective measures as this important rule-making effort moves forward."[1]
There are 2 types of sunscreen out there:
Chemical sunscreen: with no white residue, these absorb harmful UV rays before they reach your skin. They do need to be applied more frequently.
Mineral/physical sunscreen: go on white, and form a barrio on your skin to filter or reflect UVA & UVB rays. They last longer than a chemical sunscreen but can be tacky and tough to spread.
Dermatologists recommend at least an SPF 30 along with a reminder that sunscreen isn't a 100% guarantee.
"SPF 30 filters 96.7% of UV rays, meaning it allows 3.3% to reach skin," explains Steven Q. Wang, M.D., a board-certified dermatologist at Memorial Sloan-Kettering Cancer Center. [2]
Thinksport Safe Sunscreen SPF 50+
The winner of multiple awards, top rated by EWG since 2010 and free from biologically harmful chemicals. It has the highest level of water resistance per the FDA and while it can be challenging to spread evenly, a little work can go a long way!

Beyond Coastal Natural SPF 30 Sunscreen
This sunscreen toutes that it repairs skin with anti-aging cocoa and shea butter along with grape seed and algae extract. It's also fragrance free, oil free AND paraben free!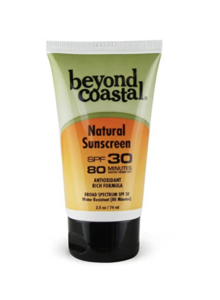 Babo Botanicals Clear Zinc Sport Sunscreen Stick SPF 30
This zinc-based sunblock is travel friendly and formulated for sensitive skin. It lasts up to 80 minutes in water or sweat (BOOM!)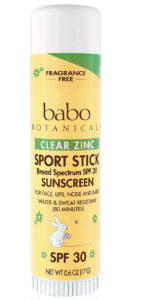 [1] https://www.goodhousekeeping.com/beauty/anti-aging/tips/g256/natural-sunscreens-460608/
[2] https://www.goodhousekeeping.com/beauty/anti-aging/g1288/best-sunscreens/