Hey my fellow bookworms, it's time to talk about the top 5 books to read this fall!
As we start getting into sweater weather, I am always down to grab a blanky and snuggle on my couch with an epic story. (Although let's be real, I'm literally always down to read over most other activities!) To get you prepared, here are some of the best books I've read recently. Get your Amazon cart or library card ready!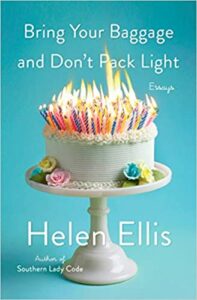 Bring Your Baggage and Don't Pack Light by Helen Ellis
This is my favorite book I've read lately. I finished it in one sitting (it's a shorty) and I laughed out loud like a damn lunatic until tears were streaming down my face. Like, I need to belong to her Grown-Ass Lady Gang, as she calls it. I love her. This book is made of up brief little essays on the goings-on of a 40-something lady who grew up in the South and has made her life in NYC. She's raunchy. She's blunt. She's southern as
hell, bless her heart. It's just… everything. You must read this book! (I've also heard the audiobook is awesome because you get it in her sassy southern twang.)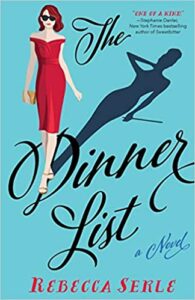 The Dinner List by Rebecca Serle
Have you ever played that conversational game where you decide which 5 people, living or dead, you'd like to have dinner with? This book examines one woman's situation where that actually comes true. On Sabrina's 30th birthday, she finds herself sitting at a table with her bestie, an old college professor, Audrey Hepburn, an ex-boyfriend, and her estranged father. The story alternately looks back at what led her here and chronicles
the unexpected conversations that occur during this unusual dinner. I won't give away any surprises or revelations, but suffice it to say that it kept me guessing and intrigued until the very end. And I don't mind telling you I cried for roughly the last 5-10 pages.
The Thursday Murder Club by Richard Osman
This book came highly recommended by a bookworm buddy of mine and I picked it up despite not necessarily considering myself a huge fan of the light-hearted mystery genre. Consider me a convert, at least as far as this book is concerned! The setting is an old folks home in England, and the characters are elderly but still sharp, residents with a bit of a morbid streak and a lot of time on their hands. They get together each Thursday to look over cold case files and see if they can crack something the cops have missed. Things start getting nutty when a local real estate developer with an interest in their retirement home is found murdered. I wanted every single one of these awesome characters to be my grandparent. The twists and turns were unexpected and adept, and there were lots of chuckles along the way. This was a fun read with characters that had real depth and surprising motivations.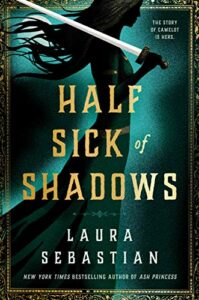 Half Sick of Shadows by Laura Sebastian
You know a few different versions of King Arthur's tale, right? The Knights of the Round Table, The Sword, and the Stone, etc. Arthur, Guinevere, Lancelot, Morgaine, and Merlin have become widely known characters in the many retellings of this classic story. Maybe you've even read The Mists of Avalon (if you haven't, I STRONGLY recommend it) which tells the story from the women's points of view. Half Sick of Shadows goes a step even further. It's told from Elaine's perspective; a character I didn't even remember from any other version of the story I knew. And the women in this version are… different from any other adaptation I've encountered. They are fully realized women with their own strong motivations and desires, compared to older tales where the female characters serve as two-dimensional chess pieces the men move around at will in order to accomplish their own goals. This book puts an unconventional spin on a tale that's one of our oldest cultural stories.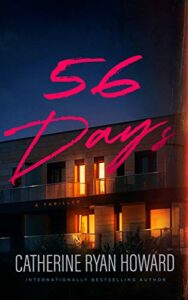 56 Days by Catherine Ryan Howard
I'm going to do something I haven't done here before, and recommend a book I haven't yet read. But this is so fresh, so contemporary, so reflective of our current circumstances, that I can't miss this opportunity to introduce you to it. A couple in Ireland have just barely begun dating when Covid-19 reaches Dublin. The lockdown requirements will force them to remain apart, so they decide to quarantine together instead. Now one of them is dead. This is the next book on my to-read list!!! I can't wait to dive in, and I hope it lives up to the intrigue!
I love to hear what you're reading, and what you think of my suggestions. Send me a message on FB or IG to let me know your thoughts. @capowthetrainer on both platforms. Happy reading, and happy Fall, my bookish buddies!