Ahhhh…can you feel it? That holiday feeling? It's all around us…in the crisp fall air, the changing leaves, the holiday collections at Sephora [to be fair, the best part], and the parties! YAAASSS the parties! Who doesn't love getting dolled up, hanging with your gal pals and enjoying some classic holiday treats?
SKKKKRRRTTTT…but wait! Those parties & treats may be sabotaging your end-of-year goals!
While it seems that reports of 7-10lbs of 'holiday weight' have been exaggerated[1] over the years, the truth is that any weight gained over the holidays is much harder to lose and compounded with the additional stress and added sugar, it becomes a challenging cycle to break starting Jan. 1st.
NEVER FEAR! Kaia FIT is here!
We've put together 5 Healthy Holiday Hacks to help you navigate the alcohol/sugar/stress laden holidays so you can start 2018 already feeling successful and on a path towards your end goal.
Hack 1: Eat Less Sugar, You're Sweet Enough Already!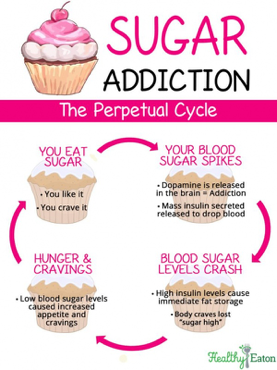 [2]
I'm pretty sure we're all aware of those standard sugar carriers [soda, candy, energy and sports drinks], but what may be surprising are the unexpected sugar carriers:
Ketchup
Nut Butters
Yogurts
While the amount might be small, these 'hidden' sugars can add up. According to the American Heart Association, women are recommended to get 25g or 6 teaspoons of sugar per day.
Track your food intake. Using a simple online tool like MyFitnessPal can help you stay on track for your recommended servings and alert you when you've exceeded.
Just say no! If it has more than 9g of sugar, find a suitable replacement.
Read labels. This sounds like a no brainer, but sometimes we simply look at nutrition facts and not ingredients. Sugar hides behind many names:

Corn syrup
Maltodextrin
Honey
Fructose
Sucrose
Dextrose
Maltose

Set your intentions. Most holiday gatherings are centered around food. Know what and how much you're going to indulge before you arrive.
Fruity & Fabulous. Feeling a sugar craving? Grab some fruit! Once you've started to crowd out refined sugars, you'll notice just how sweet fruit can be and chances are, you'll knock that craving out!
Hack #2: "I love drinking empty calories!" Said no one, ever.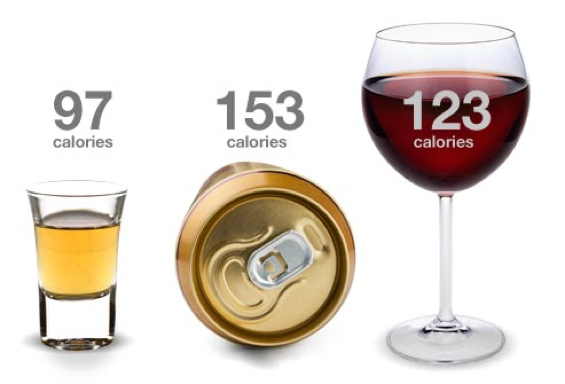 The holiday season can also be known as a long-term liquid feast. Alcohol is everywhere, and can easily de-rail you from your path if you don't have a plan in place.
Know your limit. What is the limit you can partake that still allows you to wake up the next day, fully functional and able to attend your pre-scheduled workout? Know it, love it, live it.
BYOB. Who says you have to limit yourself to the bar? Bring your own pre-measured cocktails, wine or beer. That way you'll know you've hit your limit, and you'll also know exactly what's in them. *just a side note: I always heard 'steer clear, never fear' referencing clear cocktails, so what was my go-to? A Gin & Tonic. GUESS WHAT? Tonic alone has 110 calories and 27g of sugar in a serving. Reference Sugar Hack #3, amiright?
Get Crafty. It sounds crazy, but simply drinking La Croix or Kombucha from a wine glass actually satisfies that 'social' craving. Plus, it eliminates those pesky questions like 'Why aren't you drinking?'
Hack #3: "Life Requires Movement."-Aristotle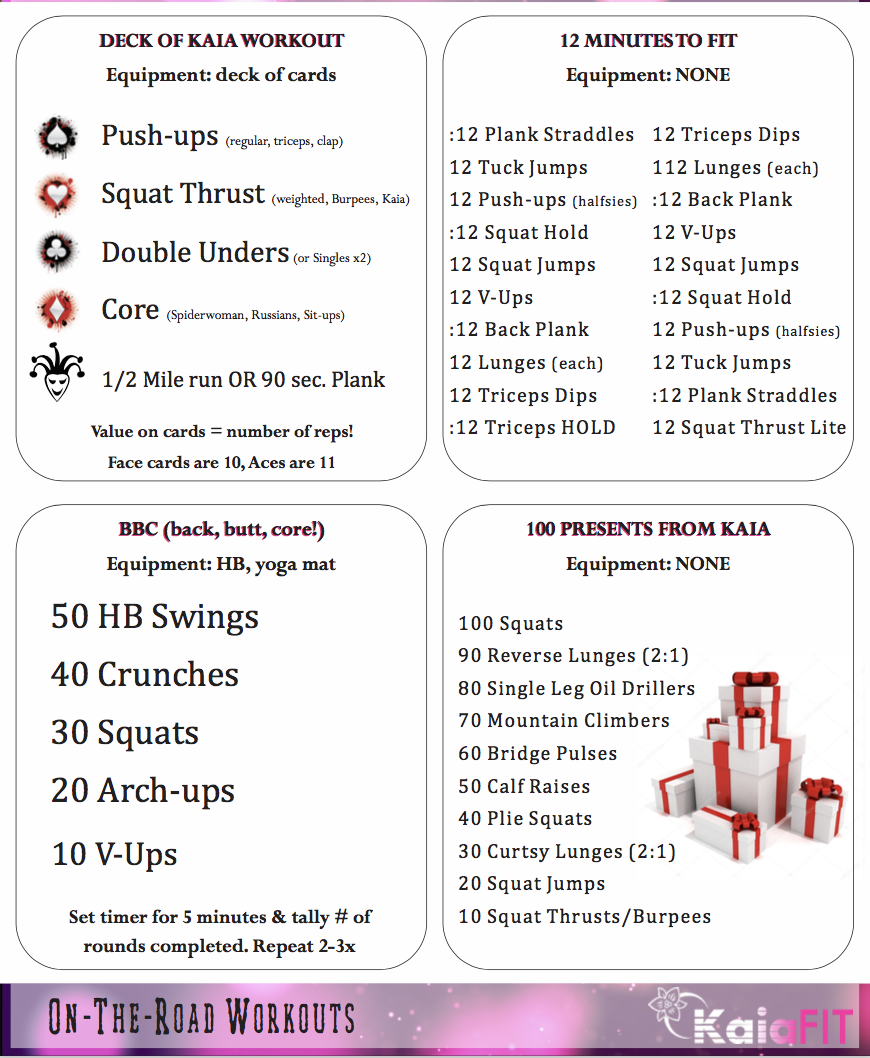 Keeping a routine is imperative to staying on track during the holidays. If you build movement into your daily routine, it's not such a shock to the system when January 1st rolls around. Find a Kaia FIT near you to join and take the guess-work out of your fitness routine!
Plan Your Week. This doesn't need to be set in stone, but having a general idea of what your movement goal is will help you stay that much more on track. We all know that without a plan, it's so much easier to hit snooze and miss that early am sweat-sess. Download our Kaia App to make scheduling your classes even easier!
Max Effort. While working out for an extended period of time can burn more calories, it's not so much the time limit itself, but more the effort exerted. If you only have 30 minutes, give 100% in that 30 minutes. You'll be shocked at how successful you'll feel, rather than guilty that you skipped your workout due to time constraints.
Squat Like No One Is Watching. Because chances are, they aren't! When you've got a few free minutes, are waiting, or just need to move, bust out a few squats, jumping jacks or a vinyasa. You'll boost your energy level, feel more productive and by default make healthier food choices.
Take Kaia on the Road. Traveling? No biggie! Just select 1 of 4 workouts [above]! They require little-to-no equipment, can be done anywhere and you can set the time limit! Not sure what an exercise is? Just Google it!
Hack #4: Food Is Fuel, Not Therapy.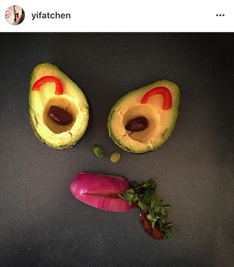 Food is EVERY WHERE during the holidays. It's a time-honored tradition to gather around a table laden with food, to gift treats, or celebrate over pumpkin pie. But what if you could change your perspective just a bit? Instead of viewing these gatherings as a chance to feast, look at them as a chance to connect. The food is secondary, and strictly for fuel.
Think about your body as an engine. The fuel you put into your car determines how long you can go between check-ups, oil changes, etc. Same with your body. While green bean casserole might look appealing, how will it make you feel? Maybe go for the roasted green beans instead and enjoy feeling a little lighter.
Eat Before. This might sound counter-intuitive, but fill up before heading to a party/gathering and you'll be less likely to select unhealthy options.
Go Green. If you weren't able to fill up before the party, go straight to the salad bar before piling anything else on your plate. Just keep the dressings on the side, go for balsamic/vinegar and top with avocado, nuts and veggies.
H2O'Kay. Not only is hydration important for your general health, it also helps you feel full. Drink a full cup of water before a meal and throughout the evening to ward off unnecessary snack attacks.
Hack #5: Celebrate with an Attitude of Gratitude
This 'hack' is honestly the most important. Keeping your priorities in focus, and your life in perspective can help you truly enjoy the holidays for what they are about: connection with family & friends and giving back to your community. In the long run, who cares what presents were purchased, or what dress you wore to a party? What people remember is the way you made them feel and the connection you established. Sign up for a week free at a Kaia FIT near you and you'll get our 30 Day Gratitude Journal as a way to keep that Attitude of Gratitude front and center. Already a KG? The journal is our special gift, just for you. Contact your local representative to receive it.
Hugs & Kisses, Coach Angela