In honor of Breast Cancer Awareness Month, Kaia FIT went a little burpees-for-boobs!
In the span of just 5 weeks, over 30 locations united to raise awareness, celebrate survivors and collect donations to benefit the Feel Beautiful Again campaign, hosted by iGoPink.
We finished off our fundraising campaign with our first annual Burpees for Boobs Event. The purpose of this event is to provide education for identifying breast cancer, prevention, and support of our fellow Kaia sisters who have or are suffering from breast cancer.
It's also a chance for us to do burpees, because who doesn't love burpees??? For every $1 raised, a burpee was performed. What's a burpee you ask? Great question: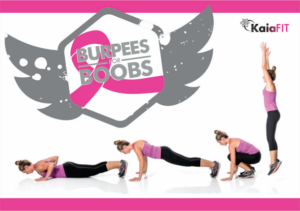 A full-body movement, burpees require strength, endurance, and a willingness to continue even when the going gets tough.
Through our efforts over the month of October, united as a community, Kaia FIT raised $24,259.
I know… AMAZING right???? You can check out a full list of our participating locations here, and mark your calendars for our 2nd Annual Burpees for Boobs on October 6th, 2018.
As a community, we also participate in a cause known as Sweat Angels. This cause generates money due to YOUR check-in's on Facebook and Instagram. Throughout the month of October, your check-ins aided in providing 90,000+ breast and ovarian risk assessments to those in need. Thank you so much for giving back and doing good.
In addition to supporting the health of boobies everywhere, we also wanted to speak to a cause close to all of our hearts. Movember has become a trend of growing out facial hair throughout the month to raise awareness of prostate cancer [in addition to others], and the need for the men in our lives to take their health seriously.
I listened to a recent podcast, featuring Dr. Mike Varshavski. He spoke to the importance, as women, to educate and encourage the men we love to get checked out. The majority of his male patients come to his due to the urging of their partners, daughters or sisters.
So take this month to encourage the men you love to get to the doctor for regular check-ups, and you can further support the movement here.
Thank you so much to everyone who donated, and continues to make our Kaia community so very special. 
XOXO Coach Angela