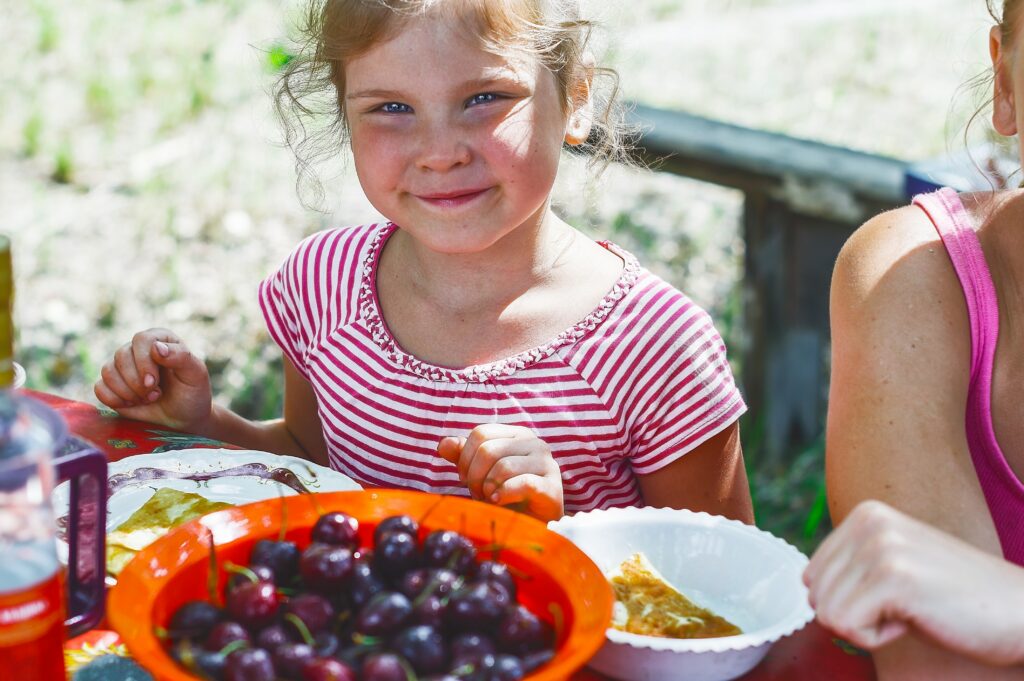 Making the decision to incorporate healthy eating into your lifestyle is a huge first step, but inevitably you may feel stress about how to get your family on board as well.
While including your family while building healthy eating habits can feel daunting at first, remember that their support can make a huge difference in your success. Going it alone, on the other hand, won't make it impossible to succeed but will make that journey a bit tougher without any surrounding accountability or support. But truly, your family benefits from healthy eating as much as you do.
A study showed that kids were more active and made better food choices when mothers encouraged and modeled fitness and healthy food choices.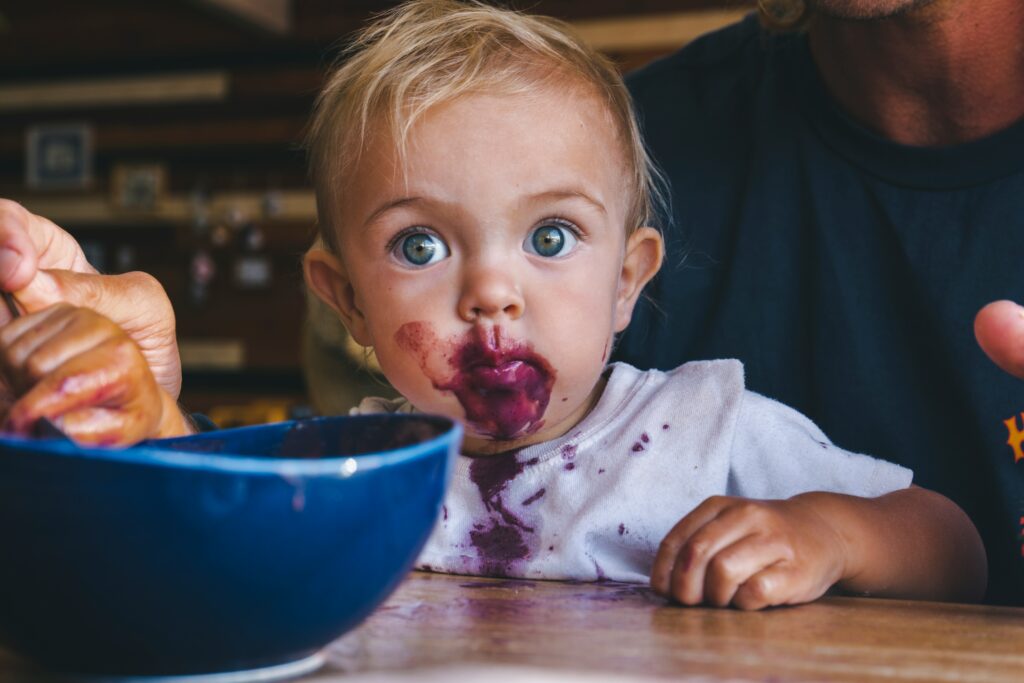 Of course, the term "healthy eating" can imply different things to different people, but essentially, we're referring to eating that:
Is sufficient in both quality and quantity to guarantee meeting each person's individual needs.
Takes age, sex, height, overall movement, and health into consideration.
Involves variety, such as different types of fruits, vegetables, and more, so that you're expanding the amount of vitamins, minerals, and fiber you're consuming.
The following are nine tips to get your family involved and excited about the healthy eating changes you're making in your life.
Share your 'why'
You've made the decision to change your eating habits, but what's the biggest reason behind that decision? Health scare? A fitness goal, such as running your first 5K? The desire to have more energy and do more with your family? Something else?
Whatever your reason, it's critical that you share it with your family. You're not looking for everyone to change how they're eating "just because." There is a reason behind your motivation, and by sharing that reason, you're allowing your family to step up and support your goal. 
Remember that your family loves you, so when you ask for support and state why it matters to you, this conversation can easily lead to ways that they can help and support you that still work for them.
Lead by example
A great way to encourage your family to eat healthier is to lead by example. Share how you're making modifications to your eating and how you're tracking your foods.
When they see you successfully making changes to your eating, they're seeing a path that they, too, can take. Every win and every obstacle overcome should be shared as well.
Talking about healthy eating and making changes to meals can feel overwhelming, but seeing a plan in action opens up the opportunity for everyone to see how easy and achievable healthy eating can be with a little preparation and thought.
Make gradual changes
It's key that you don't suddenly and drastically overhaul your family's entire diet. You should start small with one healthy change at a time.
As you introduce new foods, you can prepare them in a few different ways so that you can see what everyone likes best. In addition, when you're making casseroles, meatloaf, chili, soups, and stews, you can toss in some grated, chopped, or pureed vegetables that won't be noticed but will heighten the overall nutritional value. You can stock healthy snacks (like a bowl of fruit) in plain view to make choosing healthy snacks easier. You also can swap out certain ingredients in some recipes, like Greek yogurt for sour cream, coconut oil for butter, or nut milk for dairy milk, etc.
Remember that no matter how slow you need to go for your family, you can always make bigger changes for yourself on your own timeline.
Invite your family to the kitchen
Ask your family to get involved in the cooking process with you. Getting involved not only increases your family's buy-in for healthy eating changes but also gives them input into how the meal itself will turn out.
One assumption about healthy eating is that it can be bland and flavorless, but involving your loved ones in the kitchen can show first-hand all the flavors that they can get excited about. Maybe there are flavors, techniques, or a particular meal that your family has always wanted to explore.
Keep in mind that time in the kitchen together cooking is a great bonding opportunity with your family as well.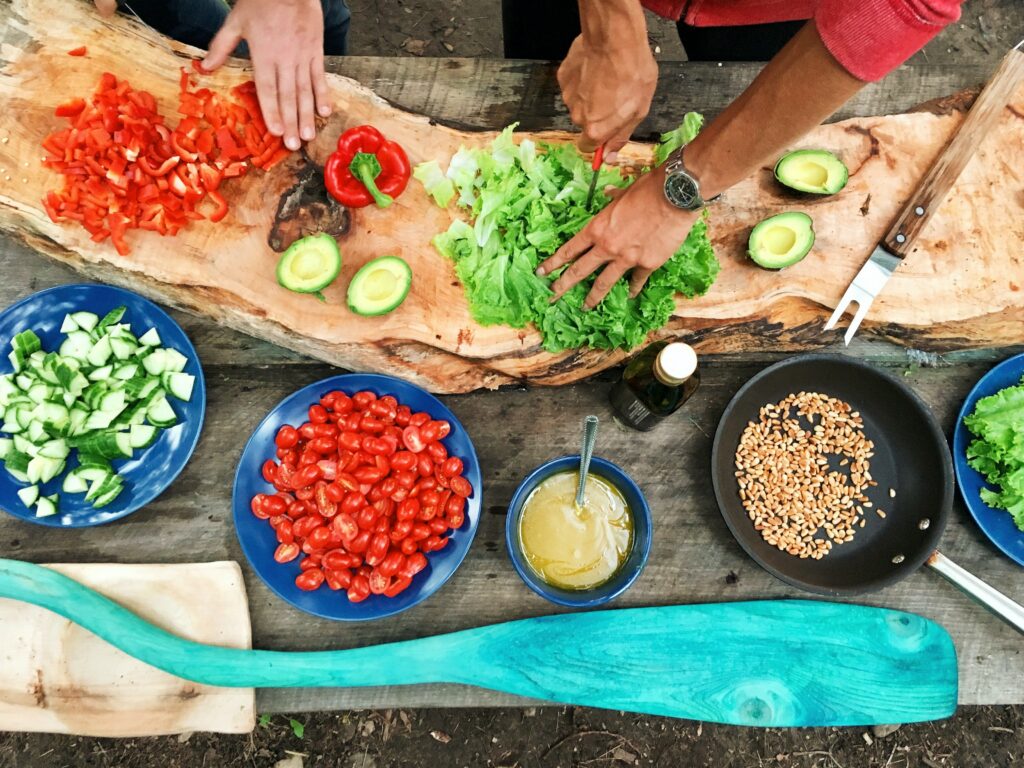 Bring your family grocery shopping
One of the bigger hurdles with healthy eating is learning how to read the nutrition label on your food. There's also the belief that you always have to buy fresh fruits and vegetables when frozen fruits and vegetables work great, too, depending on what you're cooking.
A trip to the grocery store gives you the opportunity to share what you're learning about healthy eating as you're shopping. It also gives your family a piece of the decision-making. Involving them from the beginning (just like with the cooking) can help your family feel included in the overall process.
Also, the grocery store can also be substituted with a fun trip to a local farmer's market, which can feel more exciting for your family.
Level up your food presentation
How a dish looks can help your family adjust to healthy eating as well. Research shows that pretty food actually tastes better, so take pride in how you present it.
You also can get creative and have fun with healthy foods to make them more appealing for younger kids. Think celery boats or even using a cookie cutter to make fun shapes out of fruit or vegetables.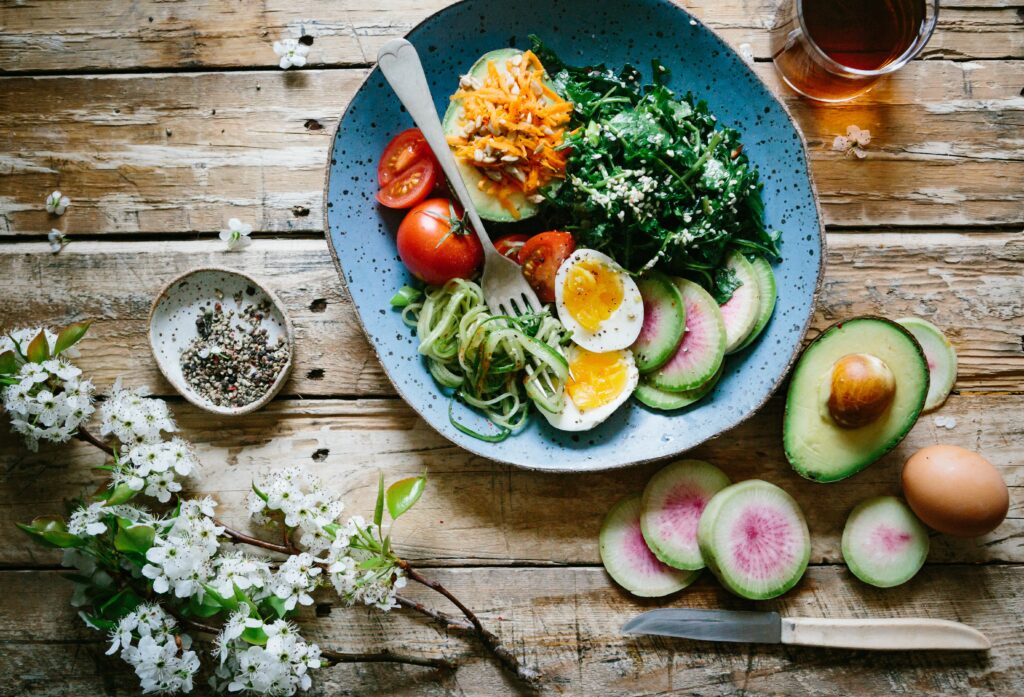 Think about crowding out versus restriction
Crowding out is a common tip when changing your eating habits. As soon as you restrict what you feel like you can eat, it makes changing that much harder. You ultimately focus on whatever you "can't" have rather than all the food you "can" have.
The same applies to your family.
While you definitely want to limit sugary drinks and non-nutritious snacks, if all you do is banish them from the house, it's going to be an uphill battle with your family. Start by not buying as much of unhealthy drinks and snacks and exploring the healthy alternatives that your family can start trying instead. 
Eat meals together (at a table) whenever possible
Strive to eat family meals around a table instead of in front of a television. About 88 percent of adults dine while staring at a screen, according to a recent survey. Sometimes referred to as "zombie eating," it can lead to overeating. And if you're "zombie-eating," then your kids likely are as well.
Make it a point to eat together anywhere where it's just the family (and not in front of a television). It can be on your patio even during great weather. This can begin as one night a week and grow from there. When doing so, you'll find that you're not only more focused on your food (and tuning in better to your hunger cues, like when you're full), but everyone will also be more focused on each other.
Patience is everything
Regardless of how you made the decision to eat healthier, you've made it and have the motivation to fuel your body in a different way. Remember that not every member of your family will be at that same point.
Acquiring new eating habits is a process. It will be a process for you and could be a process (or at least an adjustment) for your family as well.
Consider every baby step together a win. Stay consistent for yourself, and continue to give your family opportunities to get involved with eating healthier as well. It's important to nudge but not nag.
In conclusion
Remember that there are as many personal tastes in food as there are members of your immediate family. By working as a team and giving everyone a voice in the healthy eating changes in your household, you're more likely to see success over time.
Kaia FIT is a women's fitness and nutrition program that empowers women to become the best version of themselves through personalized coaching in a group environment. We prioritize community to help connect women to each other for additional support and accountability. Caren Roblin is the owner of Kaia FIT Sierra, with four studio locations in Reno-Sparks.