"Reading is to the mind what exercise is to the body."-Joseph Addison
Reading can help to improve memory, reduce stress (we all have stress, right?), and stimulate your mind. It's also a resounding feeling of accomplishment when you finish a novel.
Am I right? ?
Exercise your mind this summer with one, any, or all of the books in my Summer Reading List – Top 5. It is an eclectic mix of books that each offer something different; history, comedy, drama, mystery or love.
1. First: Sandra Day O'Connor by Evan Thomas 
If you're a fan of reading about history, this biography should be right up your alley. Sandra Day O'Connor was the first woman Supreme Court Justice. "First" will give you insight into what it's like to be Sandra Day O'Connor and her journey to become the first woman Supreme Court Justice, despite the odds.
2. Year of Yes by Shonda Rhimes 
Shonda Rhimes is most widely known for her work in television in shows such as; Grey's Anatomy, Scandal and countless others. Shonda is also a talented writer in this book that leads us through her full year of yes. We get to see how the decision to say yes changed her life and witness, through her detailed accounts, how her world shifted. Shonda will make you laugh and challenge your global perspective throughout the novel.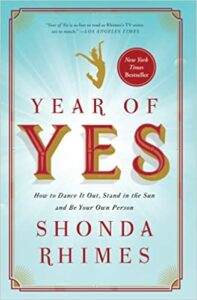 3. The Girl Before by Rena Olsen 
What if everything you thought was true turned out to be falsities? This novel will explore what happens when your entire life turns out to be a lie. "The Girl Before" alternates between present and past and will have you second guessing what you believe as reality in this novel.
Tina Fey is as funny in her writing as she is on-screen. This book is made up of autobiographical essays written by Tina. You can practically hear Tina's voice as you read along. It will certainly brighten up your day with Tina's comedic talent and stories from her life as a young girl up to adulthood.
5. Everything I Never Told You by Celeste Ng
This is Celeste Ng's first novel, and it does not disappoint. It depicts a family in the 1970's who suffers the tragic loss of their daughter. Shrouded with messy family dynamics, mystery and drama, it will keep you turning the pages late into the night.
Happy Reading!
Coach Sarah Spivey